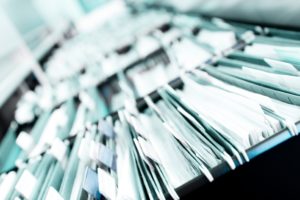 If your business or institution generates infectious waste, you may need to file a couple of annual reports to the Department of Natural Resources within the coming weeks. To guide you through the process, we'll explain who needs to file a report and how to do it correctly.
Your facility may need to file one or two different reports: A Medical Waste Reduction Plan and/or an Infectious Waste Annual Report. Whether you need to file one or both reports depends on the type/amount of waste you produce and your disposal techniques (we'll explain this in more detail later).
Also, for the first time, the DNR is requiring infectious waste generators to submit their reports online. The electronic reporting system is supposed to release this spring, and reports are due six weeks from the release date. The DNR will contact your facility contact person by email once further information is available.
In the meantime, it's the perfect time to discover whether you need to file one or both parts of the infectious waste annual report, and the right way to do it.
If you have any questions about filing your reports in general, please contact the Wisconsin DNR. Wisconsin's DNR website also provides a full list of requirements and exemptions for filing both reports.
To help you root through it all, we've pulled several golden nuggets of information from their website.
PART 1: Creating a Waste Reduction Annual Plan
A medical waste reduction plan describes your previous waste management practices and your strategy to reduce future waste production. You are required to review the plan annually and update it at least every five years.
The plan must be created and signed by the "director" of your facility. However, for the most effective plan, we encourage the director to seek help from a variety of other management personnel, including doctors, nurses, housekeepers, etc.
If you've never created a medical waste reduction plan, these three steps can get you started:
1. Discover if you're required to create a plan – Most hospitals, clinics and nursing homes are required to write and implement a waste reduction plan. Fill out this questionnaire to determine if your facility is exempt.
2. Create a "medical waste reduction policy" – A policy is a necessary precursor to writing your full waste reduction plan. It is normally about a page long and simply indicates your commitment to helping reduce waste generation. According to the DNR, creating a policy states that your facility intends to do the following:
* Audit your current practices for managing solid waste generated in the medical facility and repeat the waste audit as necessary.
* Prepare a medical waste reduction plan and update it as necessary.
* Implement the medical waste reduction plan.
* Assess the medical waste reduction plan and your progress toward your goals annually.
* Submit progress reports to the DNR.
3. Create your medical waste reduction plan – Once you've created your reduction policy, you can begin formulating your plan. The plan itself is much longer than your policy and should include the following seven components in detail, according to NR 526.19.:
* Sets site-specific goals and objectives. Generally, these goals are quantified by "pounds per patient days" – or the average amount of medical waste generated per patient per day.
* Describes past waste management practices and current practices.
* Plans to improve waste management practices.
* Examines alternatives to disposable items.
* Educates those who generate waste (employees and the public).
* Monitors progress and submits progress reports to DNR.
* Identifies who is responsible for implementing the plan.
PART 2: Creating an Infectious Waste Annual Report
The infectious waste annual report includes two separate reporting requirements: An off-site waste treatment report and a report concerning your medical waste reduction activities.
Your facility is required to submit an infectious waste annual report if you meet one or both of the following conditions:
* You generate infectious waste in Wisconsin and send it to another location for treatment.
* You run a hospital, clinic or nursing home.
The report is split into four sections. Here's what you must include in each:
1. Part I: The basics – This section includes rudimentary information about your facility, including your facility's name, address and the waste types you dispose.
2. Part II: Off-site Treatment Report – Generators who treat most or all of their own waste are likely exempt from filling out this section. Otherwise, you must provide documentation showing the total amount of infectious waste your facility sent offsite for treatment in the previous year.
3. Part III: Medical Waste Reduction Progress Report – According to the DNR, this report must include the following:
* A calculation of the medical waste generation rate for your facility.
* Dates and titles of the policy and plan for your facility (not a corporate plan).
* A summary of your medical waste reduction plan (if required to create one) and a synopsis of what you intend to do in the future. This includes your goals and objectives as well as a timetable for reducing waste (for more details, see NR 526.19(3), Wis. Adm. Code) .
* A description of progress, including your facility's goals and a brief summary describing how your facility worked towards each of them in the past year.
4. Part IV: Contact information and signature – The final section must include your contact information and the signature of the top administrator (director) who filed your reports.
How to File Your Report Online
The DNR will notify your facility by email when they launch the electronic reporting system. Please follow this link to inform the DNR if your facility has a new contact person or to make changes to the existing contact.
If you are a MERI customer, we have good news! Our new online portal makes it easy to retrieve the information you need to file your reports quickly. This software allows you to:
* Retrieve manifests that include cradle-to-grave documentation of infectious waste.
* Receive a report detailing the total weight of treated waste over a specific date range.
* Update your contact information.
We've already sent every MERI customer a link to the portal along with the required password. If you're having trouble accessing the portal, please contact us by phone or email and we'll be happy to assist you.
If you need to file annual infectious waste reports, now is the best time to start planning. Also, look for the DNR's email to notify you when their electronic reporting system is up and running. Then, follow our instructions to ensure everything gets filed correctly and on time!