Amalgam Waste Recycling Containers, Amalgam Separators and Cartridges
Amalgam Waste Recycling
Is your dental office following the EPA's new regulations for amalgam waste recycling?  You can be cost-conscious, compliant and environmentally friendly when using MERI's medentex program to recycle your amalgam waste.  In addition to disposing sharps, films and pharmaceuticals, MERI offers a complete line of amalgam waste recycling products. Powered by medentex, these include Amalgam Waste Recycling Containers, Amalgam Separators and Cartridges as well as amalgam capsule bags, tooth boxes and lead foils disposal.
Save money while also being a friend to the environment. Use this compliant amalgam recycling system to help keep hazardous mercury waste from entering into a publicly owned treatment work (POTW).
Amalgam Waste Recycling Containers Designed to Trap Mercury Vapors
All amalgam waste collection containers are worry-free and UN/DOT approved for safe handling, storage and transport. They also feature medentovap, a unique mercury vapor suppressant technology that is designed to trap and reduce your exposure to dangerous mercury vapors.
This hassle-free amalgam recycling program will keep track and will automatically remind you when it's time to reorder your cartridge or container. In addition, you'll receive a postage-paid UPS label when it is time to send them to medentex's licensed amalgam collection facility. Best of all, medentex will provide certification demonstrating your compliance with the new EPA rule.
Free medical waste consultation  
Call us at 608-257-7652 to discuss any of the amalgam products highlighted below.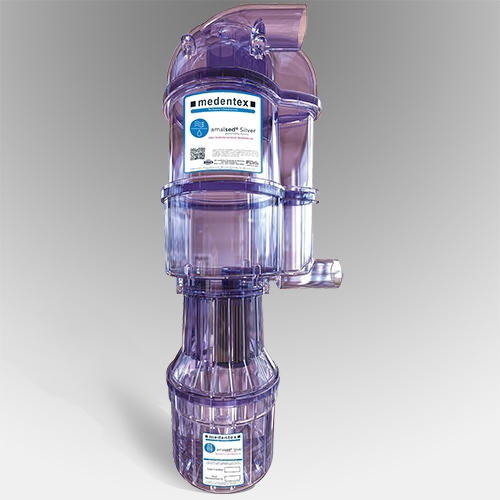 Amalsed Silver Separator
A0US2001
$860
Initial Set Up Kit for Dental Offices without an Amalgam Separator Already in Place.
Includes Top Air/Water Tank and the Amalgam Cartridge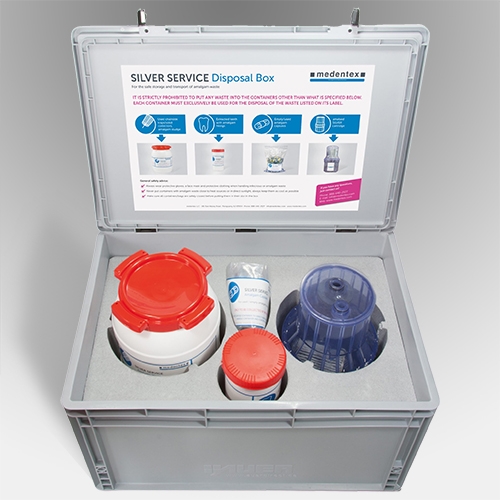 Silver Service Disposal Box
A0US2000
$700
FREE WITH INITIAL SEPARATOR PURCHASE!
Exchange Cartridge and Waste Containers for Dental Offices in Year 2 Onwards.
A features a separator, 1.5 gal. waste container, tooth box and amalgam capsule bag in a handy return-shipping box.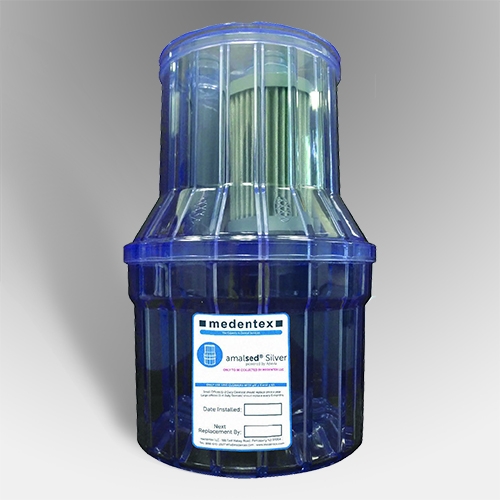 Amalsed Silver Cartridge
A0US2002 $460
Amalgam Separator Replacement Cartridge
100% Compatible with Many Existing Systems including Solmetex Hg5.
Replace Less Often
Once a Year for 5 Chairs or Less
Twice a Year for 6-12 Chairs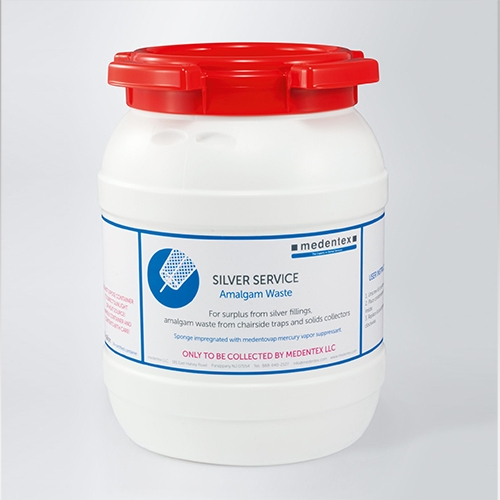 Amalgam Waste S (1.5 gal) Mailback Container
BOUS1901
$149
Includes Mercury Vapor Suppressant Top To Protect Your Dental Staff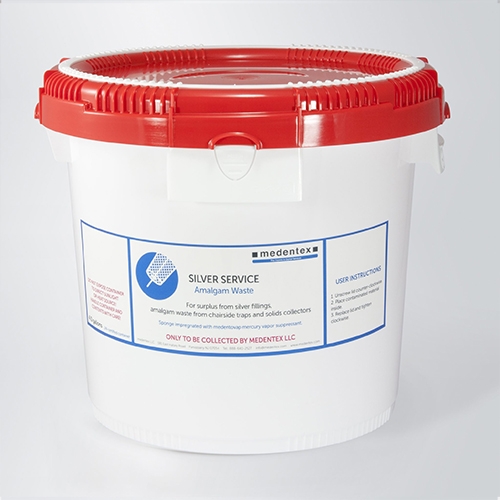 Amalgam Waste L (4 gal) Mailback Container
BOUS1902
$249
Includes Mercury Vapor Suppressant Top To Protect Your Dental Staff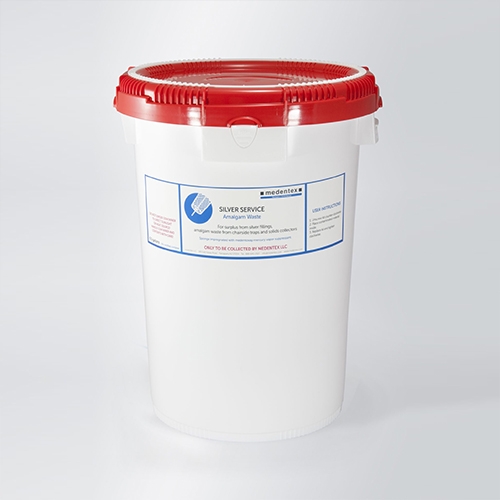 Amalgam Waste XL (6.5 gal) Mailback Container
BOUS1904
$349
Includes Mercury Vapor Suppressant Top To Protect Your Dental Staff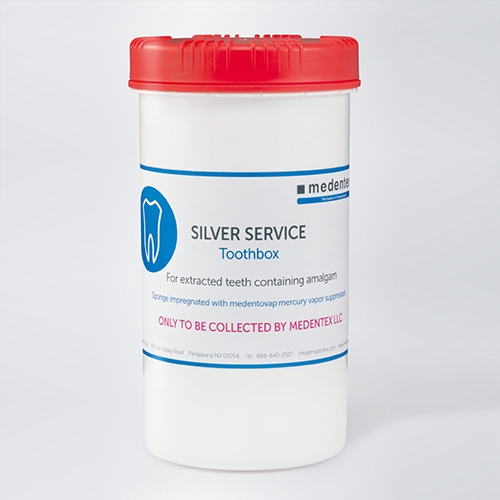 Amalgam Tooth Box
BOUS1900
$79
Safety store extracted teeth with amalgam fillings that contain trace amounts of mercury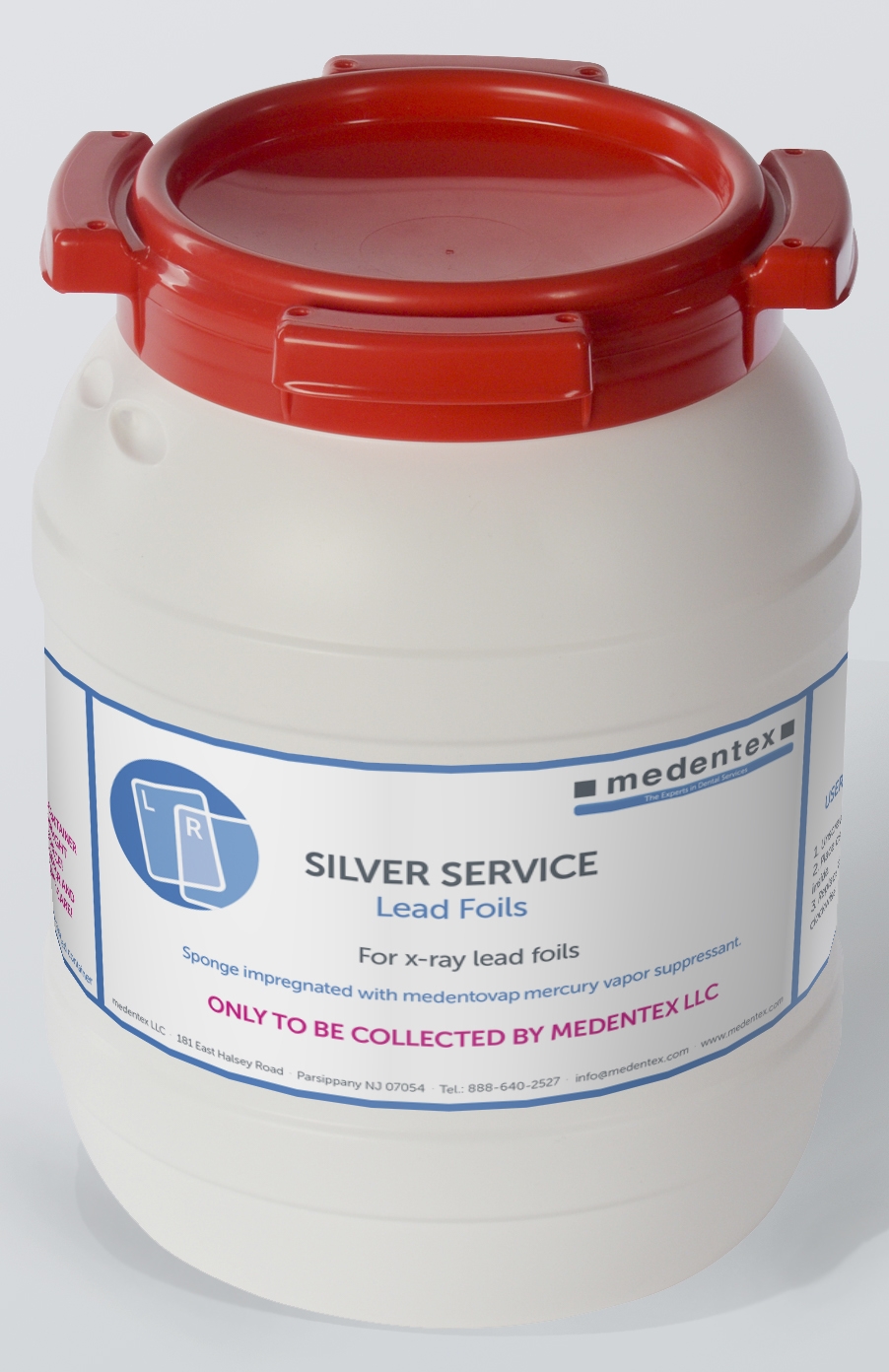 Lead Foil Mailback Container
BOUS1903
$119
Safety store and dispose lead fois from dental x-rays