Universal waste items, like fluorescent bulbs and lithium batteries, are common in healthcare.  They must be properly recycled in Wisconsin because they are hazardous wastes. This free poster by MERI can help remind staff of the special handling protocols around Wisconsin DNR's Universal Waste Rules.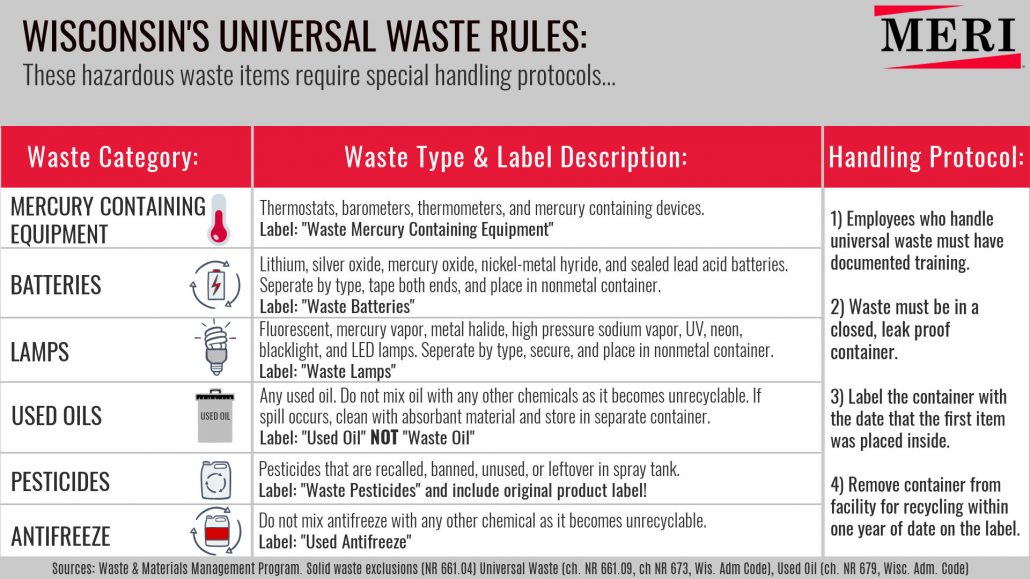 Free Universal Waste Poster
Hang MERI's poster in the storage room where the following items are collected:
These include:
Mercury Containing Devices (blood pressure cuff, thermostat, barometer, etc.)
Batteries (lithium, nicad, lead acid, etc.)
Lamps/Lightbulbs (fluorescent, LED, neon, etc.)
Used Oil (any used oil that is not mixed with other chemicals)
Pesticides (recalled, banned or unused)
Antifreeze (do not mix with other chemicals)
Container Label Description
MERI's poster not only includes the type of wastes, but also shows the label description that needs to go on each container.
For example, for lightbulbs, the label on the waste container must read "Universal Waste Lamps".  Next, for batteries, it must read "Universal Waste Batteries." For any used oil, the label must read "Used Oil".  In addition, a label that reads "Waste Mercury Containing Equipment" should be on a container holding these devices. While a "Waste Pesticides" label, along with the original product label, accurately depicts any pesticides item. Finally, a "Used Antifreeze" label is what should be on this waste.
Handling Protocols
Alkaline batteries are not hazardous and may be recycled or disposed of in the trash. However, all other hazardous batteries must be sorted by type. Plus, all battery terminals (ends) must be sealed with clear packing tape. In addition, they must also be stored in a plastic, rather than a metal, container to reduce fire risk.
Lamps must also be sorted out by type of bulb, and placed in separate, non-metal containers.
Most importantly, for all universal wastes, keep these four handling protocols in mind:
Employees who work with universal waste must be trained on how to handle it, and this training must be documented
All waste must be in closed, lead-proof containers (batteries and lamps should be in non-metal containers)
Containers must be labeled with the date that the first item was placed in the container
The container must be removed within one year of the date on the label
WI DNR Universal Waste Requirements
Refer to this Universal Waste Guide from the WI DNR to check that everything is in order at your facility.
In an upcoming blog, we'll highlight how to set up a universal waste area. Stay tuned!