The recent shortage of disposable biohazard boxes is why it makes sense to switch to reusable sharps containers.
Besides installing reusable sharps boxes, many medical facilities are going green by switching to reusable biohazard containers for their infectious waste. They are also using reusables to hold their pharmaceutical waste.
Here's three reasons why many medical facilities are ditching their disposable containers:
1. Reusables Are Available and Not on Allocation
Having a hard time getting disposable containers? If so, you're not the only one! The CDC recommends using FDA approved reusable containers for sharps vaccine disposal, like the reusables we offer at MERI.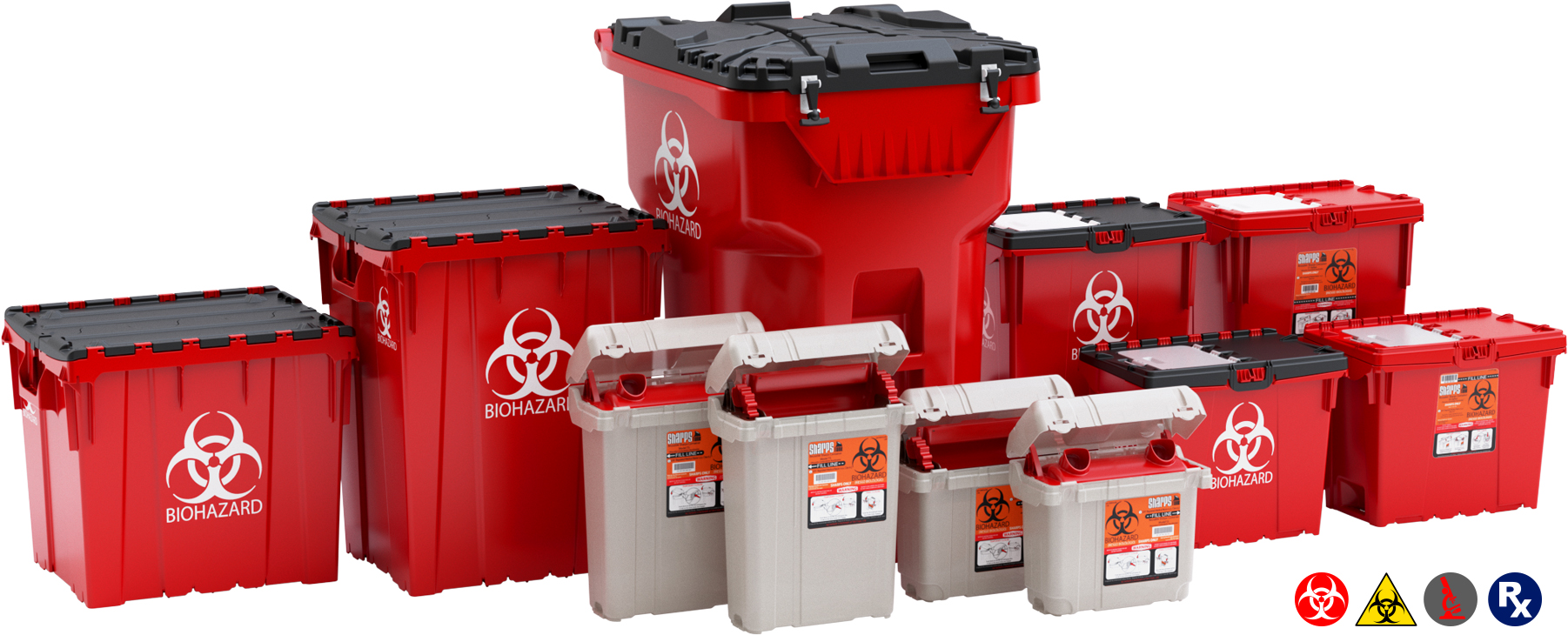 All of MERI's reusable sharps containers have a unique bar code on them. They are easily trackable for better sharps management. Our team collects, scans and processes the medical waste at our licensed infectious waste treatment facility. Then, they disinfect the containers according to state and local regulations before they are put back into service.
2. Reusables Offer a Sustainable, Cost-Effective Solution And Help to Reduce Medical Waste 
When using a disposable medical waste container, you not only have to pay for its initial cost, but also for the cost to replace it. That's a lot of needless plastic that ends up in our landfills.
Alternatively, when using reusables, you'll be able to watch the weight of extra plastic or cardboard fall out of the total regulated medical waste (RMW) pounds generated at your facility.
If your RMW number goes down, what will go up? Your environmentally-friendly sustainability rating!
"Keeping Plastic Out of the Landfill is the Reason Why We Use Reusable Medical Waste Containers"
– Teresa Reser, Richland Hospital, Richland Center, WI
MERI uses 3.2, 4.9, 10 and 17 gallon reusable sharps containers by
Rehrig Healthcare Systems
. They meet or exceed both US and international standards for sharps containers. They are also DA 510(K) cleared for up to 600 wash cycles.
Simply compare the cost of buying one reusable sharps container to an equal number of disposable containers that are needed while the reusable is in service. If you change them out daily or weekly, you'll find that's a lot of disposable containers you'll be throwing away during the lifecycle of your reusable container!
"Reusable Sharps Containers Are Cheaper in the Long Run – They Provided Cost-Saving to Us"
– Teresa Reser, Richland Hospital, Richland Center, WI
On average, a medical facility that turns over a disposable container either daily or weekly can see a net savings within six months just by switching to a reusable container.  Many also find savings by moving to a larger size reusable biohazard container for their infectious waste. Or, they find savings when simply switching from disposable pharmaceutical containers to reusable ones. MERI's reusable non-RCRA and RCRA containers have a blue lid for non-hazardous pharmaceuticals, or a black lid for hazardous pharmaceuticals.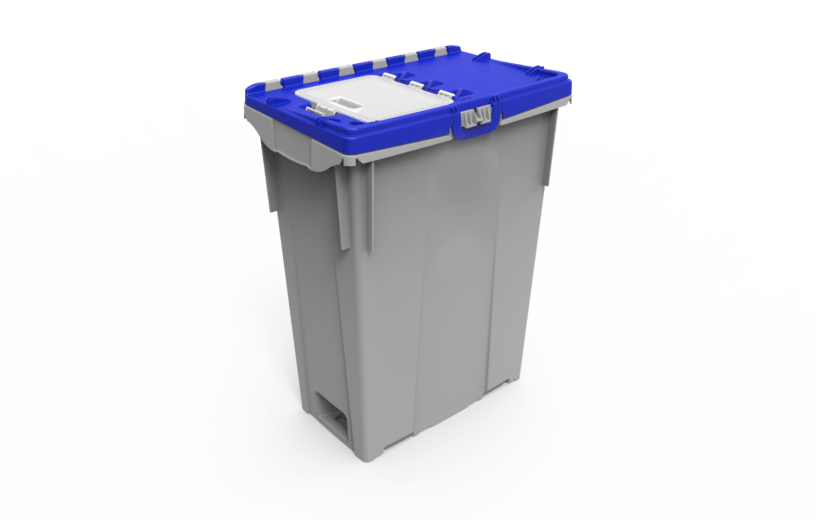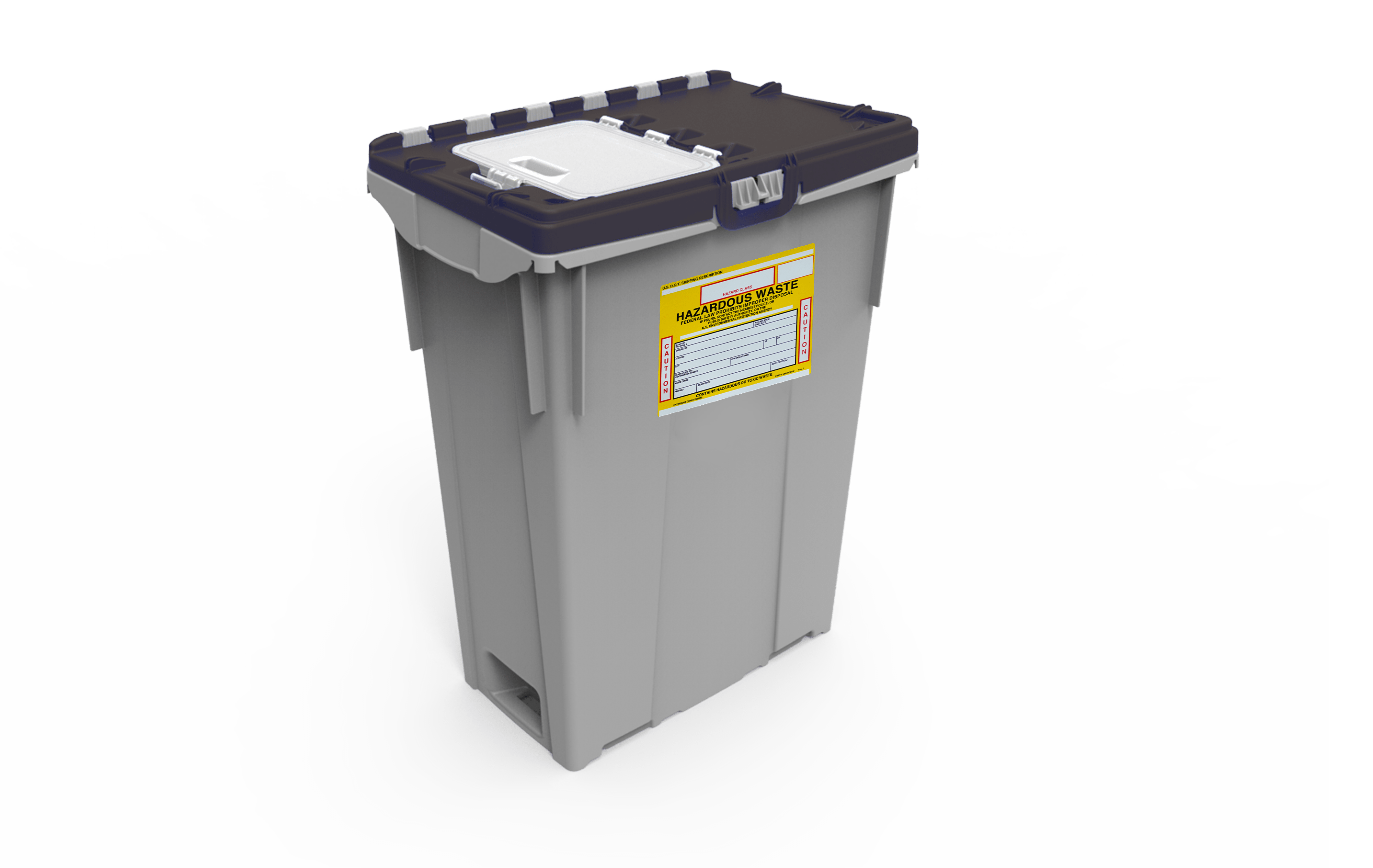 3. Reusables are Safe, Secure and Simple to Store
MERI's reusable containers are leak proof and puncture resistant. Their semi-transparent body allows for easily viewing the fill level. In addition, an interchangeable two-hole vertical, or horizontal mailbox insert, helps to avoid needle stick injuries and provides for safer sharps disposal.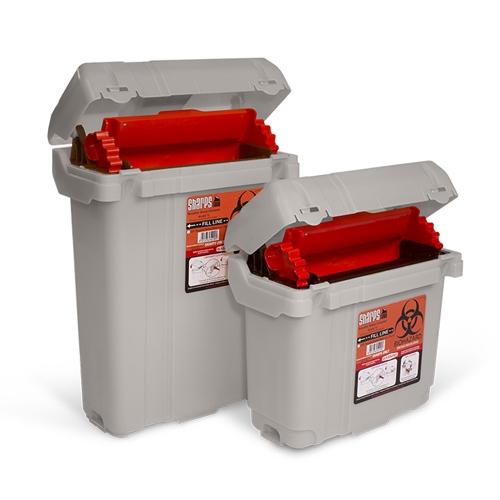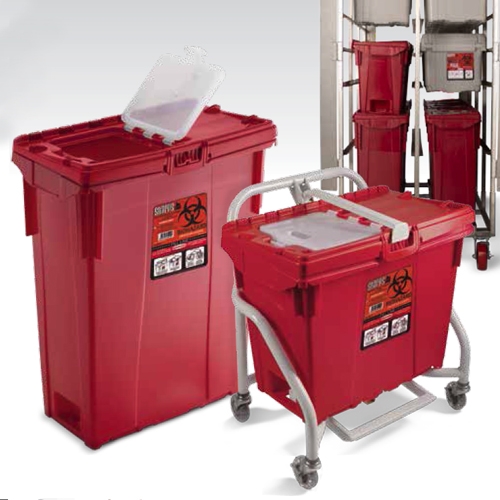 OSHA compliant, the containers also feature labels with all FDA recommended warnings and instructions. Plus, they come with a mounting wall kit, with a locking lid and integrated handle for easy carrying. Best of all, they go onto a stackable transport rack, making collection and storage a breeze.
"The transport cart help us to easily collect and store our reusable containers."

– Teresa Reser, Richland Hospital, Richland Center, WI
Why You Should Ditch Disposables:
1) Disposable Container Supplies are Limited
Right now, there are limited supplies of disposable containers. Simply put, it means you might not get disposable containers when you need them. One reusable container avoids having to pay for the cost of replacing 500-600 disposable containers.
2) Reusable Containers Reduce Waste That is Being Disposed
With reusables, you'll avoid the cost of paying to dispose of a disposable container along with your waste. Even better, you'll also be able to reduce the extra plastic or cardboard containers in our landfills.
3) Reusables Lower Medical Waste Generated and Increase Sustainability Efforts
Less medical waste to dispose of means lower medical waste numbers. That's not only good for your bottom line, but it is also great for your sustainability efforts!
4) Reusables Provide a Quick Return on Your Investment
At many medical facilities, the return on investing in reusable sharps and medical waste containers in high-volume areas can usually be recovered in the first six months that they are in operation.